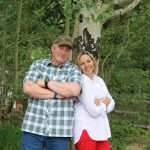 There will be a series of Pod-Casts with my co-host Teddi Ann. Teddi Ann Barry is one of the premier family law attorneys in the state of Colorado. We will discuss the pro's and con's of divorce in a matter of fact way.
When should you seek a lawyer about divorce or talk to a counselor/coach about saving your relationship? There will be some great tips for those considering staying or leaving a relationship.
The purpose of this radio show is to provide you with some insights from our radio show hosts and our staff of experts that can walk you through the process of finding answers that are applicable to your relationship needs. We'll occasionally have various guests that work with couples considering divorce, separation, or haven't gotten over their divorce.